History
---
NZCSC 2020
WHAT HAPPENED?
The 2020 NZ Cyber Security Challenge was held online with Round 0, Round 1 and a purple team challenge all held online

Grand Winner: Jamie McClymont

Category Winners
HighSchool Category: Technocoder(Zhiyuan Qi)
Tertiary/University Category: Dast(Daniel Stokes)
Industry/Open Category: Jamie McClymont
The Top 10
Dast (Daniel Stokes)
Tomais Williamson
Jamie McClymont
Logan Krippner
Technocoder(Zhiyuan Qi)
ZerOne (Sam Redmond)
Samdaman (Sam Hogan)
Fromage (Joshua Hogan)
Michael Jang
RavSS (Ravjot Singh Samra)
Individual Challenge Rewards
Medium Challenges
Challenge 4: Fromage (Joshua Hogan)
Challenge 5: Toby Heitland
Challenge 7: Gittarackur (Ryo Sugiyama)
Hard Challenges
Challenge 8: Fromage (Joshua Hogan)
Challenge 10: Jamie McClymont
Challenge 11: Jamie McClymont
Challenge 12: Jamie McClymont
---
NZCSC 2019
FIRST PLACE
Team 'The Password Inspectors' - Jamie McClymont, Rhys Davies.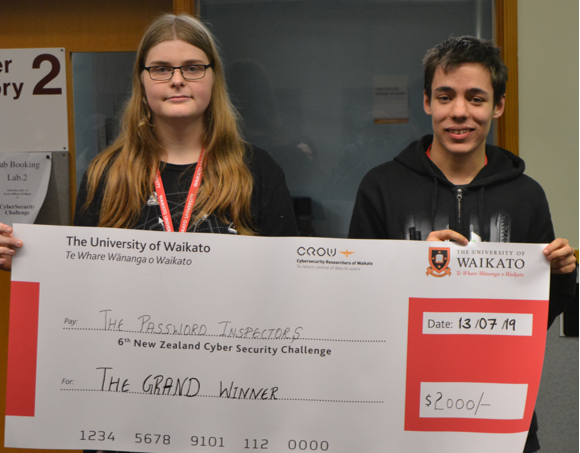 WHAT HAPPENED?
Congratulations to all the Cyber Security Challenge competitors of 2019. This year, the challengers took on the Internet of Things with the focus on - forensics, reverse engineering, steganography, web-application security and cryptography.
RUNNER-UP OF TERTIARY CATEGORY
Now UC Me (Joshua & Sam Hogan, University)

WINNER OF SECONDARY CATEGORY
Thonking (Cameron Li & Jason Xu)

RUNNER-UP OF SECONDARY CATEGORY
Arrays start at 1 (Ethyn Gillies & Marshall Patty)

RUNNER-UP OF SECONDARY CATEGORY
Frozen Orange (Orion Edwards & Thilanka Priyankara)

RUNNER-UP OF INDUSTRY CATEGORY
Gradyhooker (Grady Hooker).

---
NZCSC 2018
FIRST PLACE
Team Elliptic Curveballs - Logan Krippner, Jacob Cheatley and Michael Jang.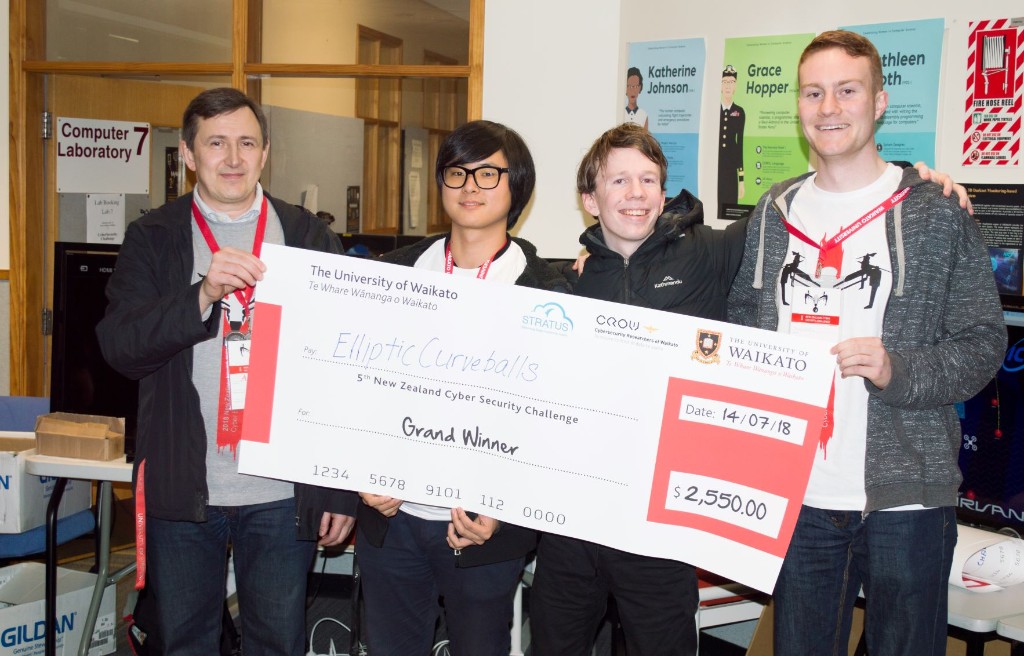 Women's Technical Challenge Champions
Team Octocats - Jamie McClymont and Abigail Koay
Drone challenge winners
Team UniHack - Rajat Rokhade, Debac Manikandan and Arnav Gogia
WHAT HAPPENED?
The NZ Cyber Security Challenge 2018 (NZCSC'18) hovered into action with a drone challenge for Round 1 & 2 contestants at the University of Waikato campus. Challengers tested their hacking skills as they attempted to take charge of a drone controlled by a host's smartphone and intercept photos taken by the drone's camera. Prizes were awarded to the successful hackers. NZCSC'18 action also included training sessions with some of the best, opportunities to kickstart a cyber security career at the job fair and talks by some of the movers and shakers in the industry. Round 0 online qualifying round took place from June 18-29, with the top 150 moving on to Rounds 1 and 2 on July 14 at the University.

---
CSC 2017
FIRST PLACE
2017 challenge known for Challenge Winner Repeat Performance .
It was a repeat performance by the overall champions team Arcton, Nathaniel Watson, Jeremy Symon and Grady Hooker took out last year's Challenge.

Representing industry, they walked away with a cheque for $2500 and NetHui fellowships. Jeremy is currently doing a Masters of Computer Science at Waikato and working at Gallagher, and Grady and Nathaniel are former Waikato Computer Science students now working in the computer science industry.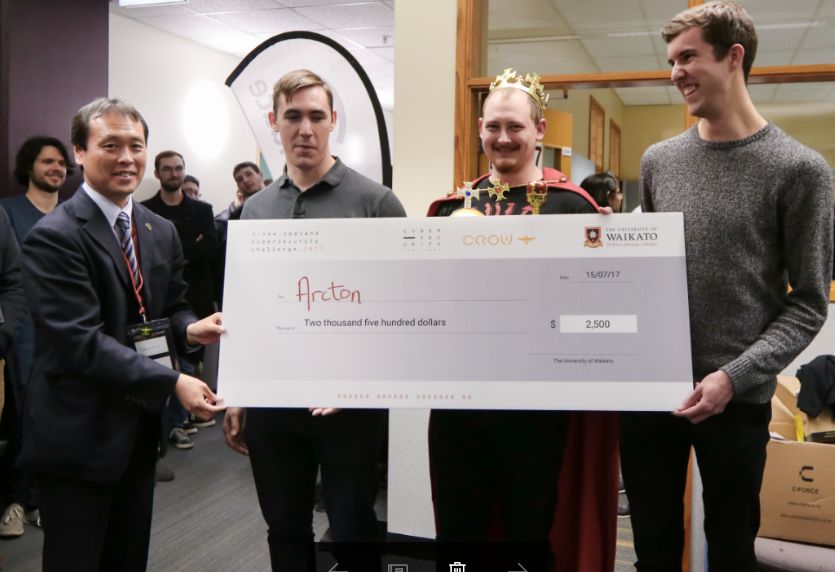 RUNNERS UP
overall runners-up 418ShortAndStout - Michael Robertson and Brent Vollebregt - placed top in the tertiary division and took home $1800.

Top performers in the high school division after Rounds 1 and 2, SQL Sharks twins Sam and Josh Hogan also took out first place in the new Policy Round. Contestants were tested on responsible disclosures, asked to critique a really badly-written cyber policy, and suggest incident response next steps for a fictitious event.

The winning team from the industry division after Rounds 1 and 2 were Jack Haystead, Daniel Tebbutt and Declan ter Veer-Burke. They took home a cheque for $1800.
WHAT HAPPENED?
nZCSC'17 hit all the right keys with VIPs from the Government Communications Security Bureau (GCSB) and INTERPOL attending. GCSB director Andrew Hampton told the Challengers it wasn't long ago that people were saying cyber security should be on the agenda but now the agenda is cyber security.

although, In this year's Challenge CROW collaborated with Japan's National Institute of Communications and Information Technology ( NICT ) to up the ante in the visualisation of the attack and defend networks of the competition. CROW member Cameron Brown worked with Koei Suzuki to customise the NIRVANA Kai visualisation to show network traffic between the Round 3 servers. The collaboration is mutually beneficial as NICT will utilise CROW technology in the future. NICT supply the visualisations for Japan's largest cyber security competition SECCON.

---
CSC 2016
FIRST PLACE
team Name: Hodor (462,250 points)
team Members: Sjoerd de Feijter, Matthew Stringer, Vladimir Petko
industry category team, representing Gallagher Group
RUNNERS UP
First Runner-Up
Team Name: Solo Team(406,160 points)
Team Members: Michael Robertson, 17 years old,
Secondary School Category team, representing Cambridge High School.
Second Runner-Up
Team Name: Arcton(386,300 points)
Team members: jeremy Symon, Nathaniel Watson, Grady Hooker
Tertiary category team, representing University of Waikato Faculty of Computing And Mathematical Sciences
WHAT HAPPENED?
due to the popularity of the competition in 2015, we introduced an online qualifying round, Round Zero. 267 participants registered for Round Zero and attempted the challenges between the 17 June - 1st July, after which the Top 150 were chosen to attend the competition on the 14 and 15 July.

participants competed in two rounds: Round One, a capture-the-flag style challenge and Round Two, a Red team vs. Blue team game where the Blue teams had to defend their vulnerable servers from attacks from the Red teams, which consisted of an Industry Professional from Gallagher and two CROW members.
---
CSC 2015
FIRST PLACE
team Name: ter B
RUNNERS UP
First Runner-Up
Team Name: DoubleMC
Second Runner-Up
Team Name: Kanye4Prez
WHAT HAPPENED?
nZCSC'15 was open to all of New Zealand and participants were split into 3 categories: Secondary, Tertiary, and Industry/Open.

the competition had 2 rounds: Round 1 was a capture-the-flag style challenge. Round 2, open to the top 5 teams of Round 1, was a Red team vs. Blue team style challenge where 5 Blue teams defended their systems against the Red team, which included Industry professionals from Insomnia Security and PWC Digital.
---
CSC 2014
the first instalment of the Cyber Security Challenge was open to University of Waikato students only.

cSC'14 had a single round - a capture-the-flag style challenge where the students participants solved challenges to acquire flags. The event served its purpose: to gauge students' interest in a Cyber Security-themed competition. Over 70 students registered, attended the training and paticipated in the competition, which encouraged the organisers to plan the next CSC.